My little guy had a flaming sore throat yesterday, and a fever. I fed him mostly chicken bone broth all day, but I was trying to tempt his appetite with something else, so I decided to try my hand at making a flan. We have an old flan recipe that we loved, but it called for sweetened condensed milk, evaporated milk, and a cup of white sugar. Obviously not something I'd be feeding my sick child (even if he was totally healthy!)! I looked over the recipe and figured out the changes I wanted to make. I do use a bit of Agave Nectar in this recipe...I know there are some who consider Agave controversial, but I've studied both sides of the issue, and for us, it's a better choice than refined white sugar. I use it only in moderation and only occasionally. If the Agave offends you, it's simple to just substitute another sweetener for it. I would substitute Raw Honey, or Palm Sugar.
The Flan turned out even better than I had hoped! Creamy, smooth, and incredibly delicious!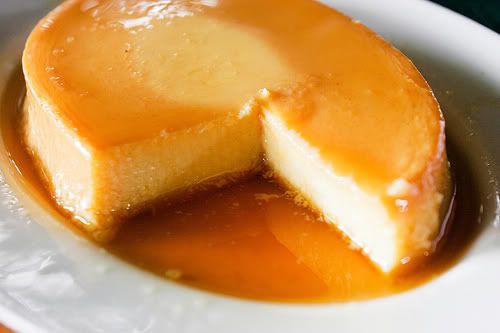 CREAMY HONEY-CARAMEL FLAN
Caramel Sauce
1/3 cup Coconut Palm Sugar
1/3 cup Honey (I use raw, local honey)
2 Tbls. Agave Nectar
Flan
6 Eggs
8 ounces cream cheese (I used yogurt cheese that I'd made last week), cubed into one inch cubes
1 (14 ounce) can
Coconut Milk
(regular, not lite...and the brand I use is non-BPA)
1 Cup Heavy Cream (I use a local cream from Hilhof Dairy)
1/3 Cup Honey
2 Tbls.
Agave Nectar
1 Tbls. Vanilla Extract.
**Preheat Oven to 350 degrees. Place an 8 or 9 inch square pan filled with water on the bottom rack of the oven.
Step One:
For the Caramel Sauce, melt the honey, agave nectar, and palm sugar together over low heat for just a couple minutes. Don't let it boil! Pour the melted sweeteners into the bottom of a deep dish pie plate, or casserole dish...I use a 10" round stoneware dish for mine.
Step Two:
Place all of the Flan Ingredients in a blender (you can use a bowl and mix it with a hand blender, but using a blender with a lid makes it SO stinking easy!) and blend on high (I use my smoothie setting) until it looks all blended and smooth.
Step Three:
Pour the flan mixture slowly and carefully on top of the caramel mixture, and place in the oven. Make sure that it's situated so that's it's sitting on the rack directly over the baking dish filled with water.
Bake for 50-60 Minutes. Check to see if it's done by sticking a table knife in the center and pulling it out. If it comes out clean - then it's done!
Step Four:
Remove Flan from the oven, and let cool in the pan for about an hour. Then, turn it out onto a large plate/platter. Make sure when you do this, that there is enough room around the edges for the caramel to pool - otherwise, you'll have caramel topping running all over your counter! Refrigerate for at last 3-4 more hours. If you can wait that long. We had a piece right away, and it was YUMMY! But it has a totally different consistency when it's warm vs. when it's chilled. It's much softer, like a custard when it's warm, and after it's cooled for a while, it has a denser, more cheesecake like consistency - only smoother. Either way, it's spectacular!
**Most flan recipes call for a water bath - wrapping a towel around the pan, and placing it in a larger pan with water in it. Yeah, I just don't want to mess with that, so I've discovered that if I place a pan of water directly underneath the Flan pan while it's baking, I get pretty much the same results, and it's a lot easier to deal with when pulling the flan out of the oven!
I've shared this recipe at Simply Sugar&Gluten Free for
Slightly Indulgent Tuesday
- Head on over to check out all of the fabulous recipes!
Also linked to
Real Food Wednesday
over at
Kelly The Kitchen Kop
Check out
Fight Back Friday at The Food Renegade
! I love this site - and I've posted this recipe there too.